As a child, I remember spending many hours drawing, painting, and making things for friends and family. I enjoyed every moment of it and felt a natural affinity to art. Participating in a student art show gave me confidence and a feeling of accomplishment, and this helped me become an artist. 
During my undergraduate studies as a Fine Arts student, I always felt the need to find a greater purpose, to carve a niche for myself through self expression. Exploring the field of visual communication expanded my horizons and I helped start the first Visual Communication program in Loyola College, Chennai.
Despite my foray into visual arts, I wanted to relate to people at a deeper level. It was a hot summer afternoon in Chennai when I came across a book written by Edith Kramer on "Art Therapy with Children" at the U.S. Embassy library. Every word I read spoke to me. I realized that art therapy was my calling.
My journey into art therapy began in 1985 with a graduate art therapy program at George Washington University, Washington, D.C. I was taught by some of the pioneers in the field, and every day was exciting and invigorating. On completing my studies, I worked in India at Bambino school for a year and a half and then worked for 16 years with children, adults, and seniors with mental illness at various positions in the United States. During my visits to India, I introduced teachers and counselors to art therapy and loved how excited they felt about this wonderful way of connecting and understanding people. This journey inspired me to write two books since there was a need not only for art therapy but art education within the Indian curriculum. I have also contributed to 2 books.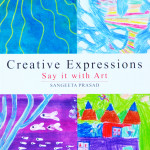 "Creative Expressions: Say it with Art", is a book for parents and teachers to understand how children draw as well as an introduction to art therapy. When looking at the various training programs in India, and globally it was evident that a comprehensive book on art therapy from a multicultural perspective was necessary.
I joined hands with Paula Howie and Jennie Kristel to write the second book, "Art Therapy with Diverse Populations,
Crossing Cultures, and Abilities".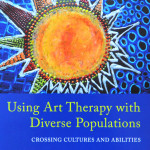 We invited experts in the field to write about the various micro and macro cultures that art therapists deal with on an ongoing basis.
It is my goal to share this knowledge in as many ways as I can. I hope to inspire those who love art and psychology to use art therapy as another way to reach people and help them grow. Along with a private practice in Fairfax, Virginia, I paint, write, teach, volunteer, garden, and travel.  As a director on the Board of the American Art Therapy Association, I was involved in helping the association serve the membership and advocate for art therapy in accordance with its strategic plan. Through a private foundation, I helped create funding sources for art therapists to work in various places, nationally and internationally. I am especially interested in bringing art therapy to India, where my journey began.
For details regarding my practice, please click here.
For details and photos on these two books as well as author contributions, please click here.